Lubbockites Keep Fight Alive For Reproductive Rights
Senate Bill 8, the restrictive Texas abortion law that went into effect Sept. 1, sparked 660 protests across the country last weekend—including one in Lubbock. While a recent court ruling temporarily blocked the law, that does not change things for the West Texas city, where abortions have been banned since even earlier. In June, a local ordinance created a pathway for private citizens to sue anyone who helps someone get an abortion. Even still, these three Lubbock women keep the fight for reproductive rights alive.
Inside Lubbock's Planned Parenthood clinic, director Angela Martinez unpacks one of the small blue bags the group's been handing out since "the heartbeat bill" took effect. It comes with emergency contraception, she explains, as she places a pregnancy test beside the morning after pill.
The last item in the bag is a small, informational card: "This card says what the new restrictions are."
They're called "empowerment kits." It's one way Planned Parenthoods across Texas are working within the confines of the new state law that allows anyone to sue an abortion provider for performing the procedure after six weeks into a pregnancy. The law has limited abortion services in the state.
The Lubbock clinic is relatively new–it just opened last October. Martinez said, by April this year, the clinic had started offering medicinal abortions. But that only lasted five weeks. Prior to that, the region was without an abortion provider for seven years.
"It's weird to talk about the timeline of the past year and the hurdles that the Lubbock Center has had to go through," Martinez said. The city's restrictive measure, dubbed the "Sanctuary City for the Unborn Ordinance," took effect on June 1. The local law is similar to the state one.
Now, Martinez said, the clinic's biggest challenge is getting out the message about other things they do.
"We want people to know that we're here," she said. "We're offering as many services as we can." Services like STD testing and treatment, cancer screenings and giving out birth control.
While this may be a conservative part of Texas, Martinez and Planned Parenthood still have like-minded allies, including Lubbock artist Tricia Earl. She's using her artwork to raise money and inform people.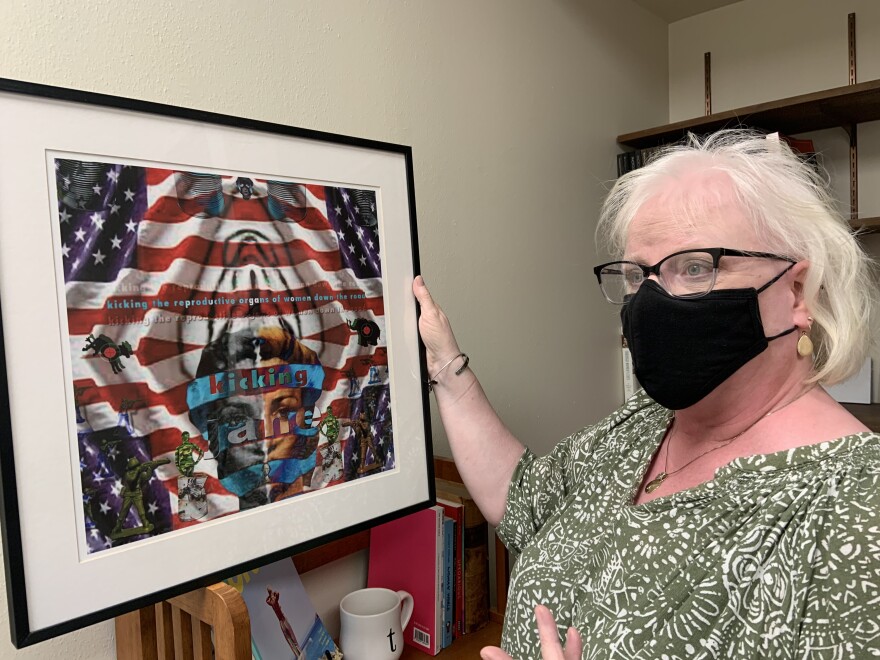 In her basement-level office at Texas Tech University, Earl flips through stacks of hand-printed posters in all sizes, pulling out a small, rectangular one, with the words "I Am Jane" printed in bold, block letters. On the back of each "I am Jane" poster, Earl includes contact information for three organizations: Women's Protective Services, Lubbock's Rape Crisis Center and Planned Parenthood.
"Everyone always asked me 'Who is Jane?'" Earl said. "Well, Jane can be any of us." She explained that even men can be Jane, because men can be allies. "So why not have a poster that says 'I am Jane.'"
She says the series was inspired by a group from Illinois in the early 70s—a group known as The Jane Collective. "The women were finding that a lot of other women did not know where to go, who to talk to, specifically around reproductive health," she said. So, they formed this collective of women—a trusted network that other women could turn to.
That story resonates with Earl. She said she's always been approached by people needing help, whether for an abortion or just getting birth control. "I'm being asked these questions more than I have ever, ever thought I would ever be," she said.
At last Saturday's rally against Senate Bill 8 in Lubbock, Earl's posters were on sale at Planned Parenthood's booth—$10 each, with all the proceeds going to the clinic.
Kim Gonzalez organized the event. She has worked in healthcare for more than 25 years and only recently became an activist. "When [Ruth Bader Ginsberg] died, it really hit me," Gonzalez recalled. "I realized that I need to do more than just vote and watch the news. So, I started showing up."
She started by showing up at the public hearing Lubbock's city council held when they were considering the local abortion ban. Gonzalez was one of a few people there supporting Planned Parenthood. Saturday's rally was the biggest thing she has organized so far, and even made a speech.
Standing beside the Tim Cole memorial statue, Gonzalez addressed the crowd. "I'm angry that we still have to be here fighting for this. Our grandmothers fought for us to have this right 40 years ago. Why are we still fighting this fight?" she asked.
Like Tricia Earl and Angela Martinez, Gonzalez said she will continue using her platform to inform people about their reproductive health options. She said her top priority right now is getting people to urge their reps in to fight for the Women's Health Protection Act–a measure recently passed by the U.S. House of Representatives.